Main content starts here, tab to start navigating
FUGU TASTING COURSE
You can reserve FUGU tasting course for this winter Season.
Please book your reservation through RESY, and request FUGU TASTING.
Reservation must be made 3 days in advance.
Once you reserve with request, we will call you to get credit card information to confirm your FUGU tasting course.
Cancellation policy : less than 3days full price $ 200.00 p/person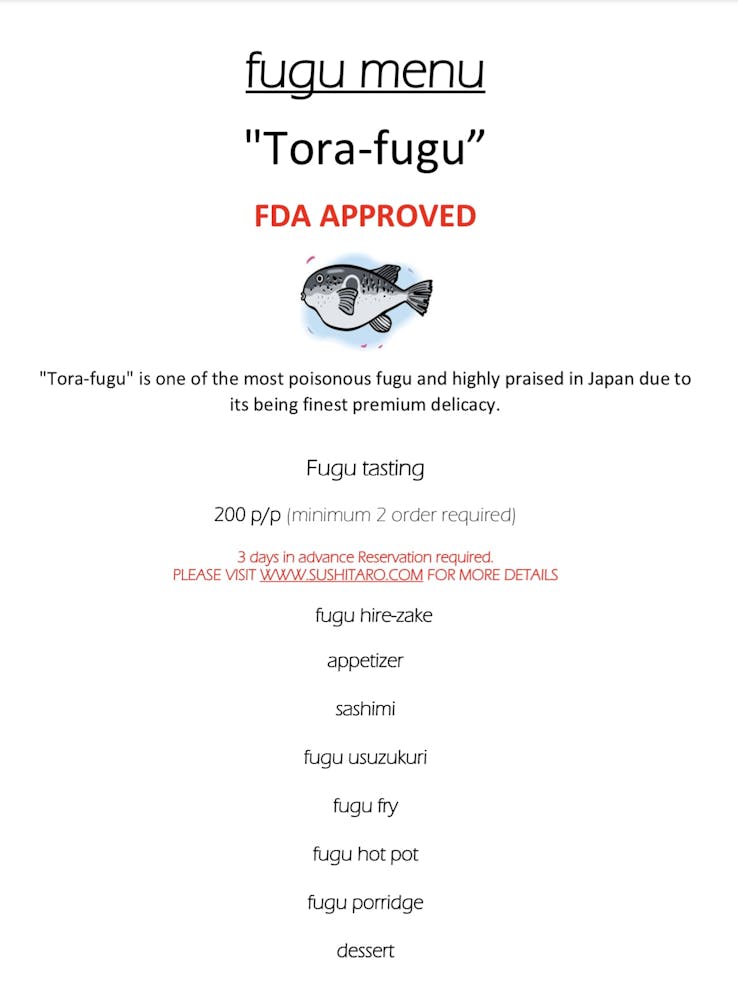 Please click HERE to order
FULL REFUND IF YOU CANCEL by DECEMBER 18th before 12:00pm. You can cancel and request your refund through RESY. After final dead line date, NON REFUNDABLE.
We are OPEN on DECEMBER 31st SUNDAY for Dinner
Reservation Cancellation Policy
Cancellations within 24 hour of your table reservation time will incur a $20 fee per person.
This cancellation fee does NOT apply to Omakase Counter Reservation.
(please visit omakase counter page for cancellation information)


Thank you
HAPPY HOUR
5:00pm - 7:00pm
25 % OFF Sushi & Drinks
Tuesday - Friday only @ BAR
CORKAGE FEE / Bring your Own Birthday Cake Charge
$50 corkage fee per bottle.
$25 service fee per cake.
Online Order
Order is available only online from Toast (from computer)
or download Toast app for smart phone.
*Limited Quantity Available So please order early as possible.
PARKING SITUATION
DC gov. proceeding their progressive street plan and took out a half of street parking. On top of that, nearby public parking lots have closed for evening business. So, driving into Dupont circle area is absolutely NOT RECOMMENDED.
GIFT CERTIFICATE (PURCHASING)
Purchasing Gift Certificate ( IN-PERSON REDEMPTION ONLY) is available through email communication.
Sorry that we cannot do this simple online system, since we have to print our own certificates.
Please send a request with information of :
1) NAME / PHONE NUMBER
2) Amount
3) If you like us to mail it to you or recipients,
NAME & ADDRESS
We will call you to get credit card information for payment.
INTRODUCING MITSUBISHI CLEANSUI'S "CULINARY WATER (PURIFIED CLEAN & SOFT WATER)"
Japanese cuisine is known as "Cuisine of Water" because water is the most important ingredient of Japanese cuisine. Water in Japan is very soft in compared to that of North America. Since "Nansui" (soft water) helps ingredients stay true to their flavor while extracting maximum umami, our restaurant / kitchen has installed Japan's finest "Culinary Water" purification system of Mitsubishi CLEANSUI in order to take advantage of it. The system produces clean and soft water best-tunes for "Washiku" cocking.
Now our cooking & drinking water is all covered by Mitsubishi CLEANSUI's "Culinary Water".