Main content starts here, tab to start navigating
RESUMING INDOOR SERVING
Our indoor dining will be back starting TUESDAY 1/26.
RSVP available through Toast
Valentine's Day set TOGO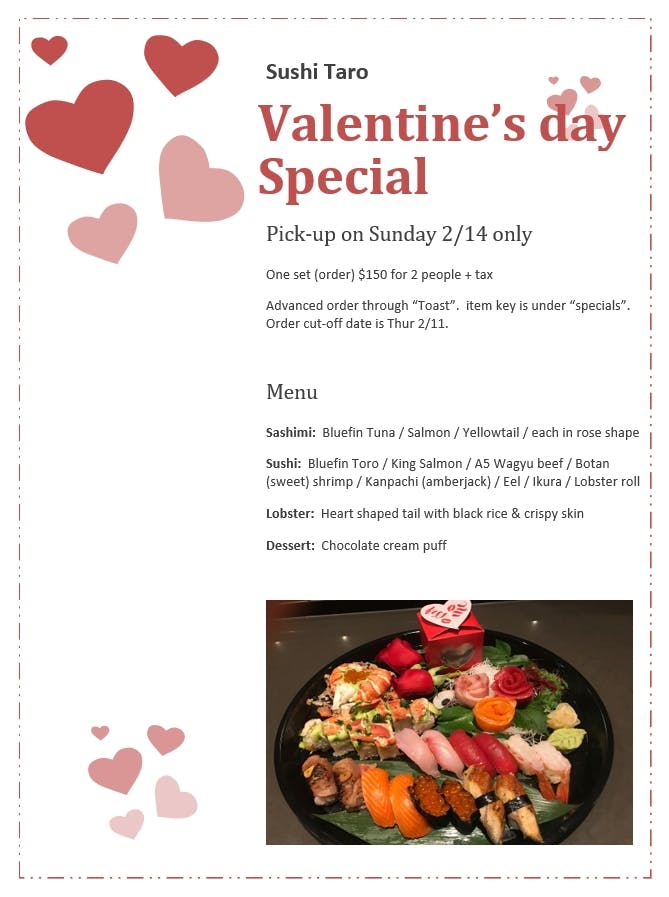 Online Order
Order is available only online from Toast (from computer)
or download Toast app for smart phone.
There will be 10% COVID charge to your total.
This is the only way that we can keep our employees, especially servers.
Tuesday - Saturday 4:00 PM - 9:00 PM
We all wishes for your safety !
Thank you,
Skip The Line
All online orders are for pick-up. If you are interested in delivery, contact local company Skip The Line before placing your order to schedule a pick-up on your behalf. Learn more
INTRODUCING MITSUBISHI CLEANSUI'S "CULINARY WATER (PURIFIED CLEAN & SOFT WATER)"
Japanese cuisine is known as "Cuisine of Water" because water is the most important ingredient of Japanese cuisine. Water in Japan is very soft in compared to that of North America. Since "Nansui" (soft water) helps ingredients stay true to their flavor while extracting maximum umami, our restaurant / kitchen has installed Japan's finest "Culinary Water" purification system of Mitsubishi CLEANSUI in order to take advantage of it. The system produces clean and soft water best-tunes for "Washiku" cocking.
Now our cooking & drinking water is all covered by Mitsubishi CLEANSUI's "Culinary Water".

RE-OPENING INDOOR OPERATION
To all Sushi Taro lovers,
We are finally opening dine-in operation starting Tuesday 11/17.
"Resy" is our partnered reservation system. So, please make your reservation through "Resy".
Our new operation hours are
MON CLOSED LUNCH CLOSED
TUE – SAT 5:00 PM – 9:00 PM (last seating)
SUN 5:00 PM – 8:00 PM (last seating)
Wearing a mask is required entering restaurant.
COVID Charge 10% is added to all bills automatically and it is not lieu of tips. Thank you for your understanding.